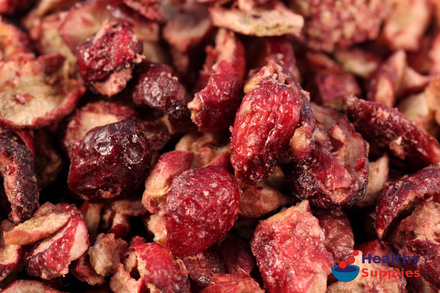 These are freeze-dried red grapes.
Very fruity with a complex flavour.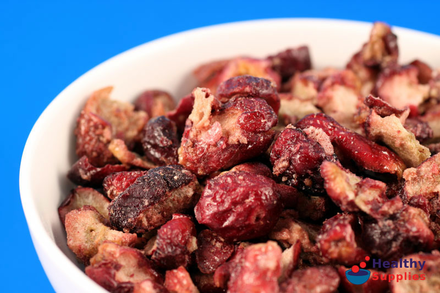 This product is temporarily out of stock, but you can try
Black Jumbo Raisins 500g (Sussex Wholefoods)
instead
Last Batch 22994 Produced on Thu 18 Feb 2016 11:35. Best before End Mar 2017. Produce of Chile and EU. Packed in the UK.
Freeze-Dried Grapes 100g (Healthy Supplies)
These freeze-dried sliced grapes are 100% pure with no added ingredients. They are dried to one-sixth of their original weight, and can be eaten as-is or reconstituted with water. Eat as a snack, or add to your breakfast cereal or muesli in the morning.
Naturally sweet and fruity.
Freeze-dried grapes are additive-free.
100g foil-sealed pack.
No added sugar.
No preservatives.
100% grape.
Tastes like the original fruit.
100g of freeze-dried grapes is the equivalent of 600g of grapes. Just the water is taken away.
Same size as the original fruit. Nice and large.
You can eat as-is, or rehydrate if you wish.
Eat as a snack, or add to muesli.
Ingredients:
100% freeze-dried sliced grapes. No additives or sugar.
For more information on our ingredients policy please see here
See our freeze-dried fruit nutritional information page for general information about freeze-dried fruit.
The Taste Test
The first thing to observe about these dried grapes is that they are absolutely, nothing like raisins whatsoever! They have an actual grape-like flavour, with the complexity and sharpness that you would expect from eating grapes. Raisins/currants/sultanas tend to be a lot more "sugary", whereas these have a fresher taste.
Overall, it's a fruity flavour that is not overly sweet and should satisfy many. Texture-wise, these dried grapes have a firmness that stops short of crunchiness. They soften in the mouth to become as chewy as grapes usually are. When added to cereal, they absorb the milk and add an interesting complexity to the mix - a sort of sweet sharpness.
Of course, these freeze-dried grapes also make a healthy snack, as they contain no sugar and no preservatives.
Vegetarian, Vegan. Packed in a factory that also handles nuts, soya, sesame, eggs, milk, mustard, celery, wheat and gluten.
Customer Reviews on Trustpilot
Product Recommendations