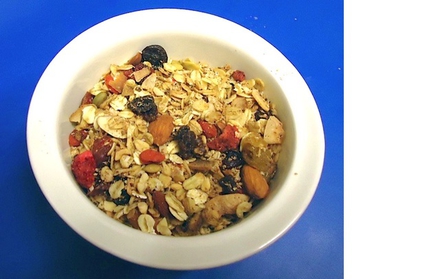 Frederica's Grannyola - Recipe
Recipe contributed by Frederica Huxley
Ingredients:
500gJumbo Oats
1 tbspground cinnamon
40g pumpkin seed
100gflaked coconut
80mlmaple syrup
80mlnut oil
1 tsp vanilla extract
1 tbsp water
190g various dried fruit (for instance, cranberries, gojis, raisins, cherries, blueberries)
25g of Healthy Suppliesfreeze dried fruits(I mix strawberry, raspberry and black currant together!)
Yield: approximately 1.25kg
Method:
1) In a large bowl, mix jumbo oats, ground linseed, sliced/split almonds, chopped mixed nuts, ground cinnamon, pumpkin seed, flaked coconut and desiccated coconut.
2) In a measuring jug combine and mix well maple syrup, nut oil, vanilla extract and water. Pour this over the oat mixture and stir well to coat the oats. Pour into a large roasting dish and place in a preheated 180ºC oven. Stir every 10 minutes until the mixture is toasted to a light brown, about 35 minutes . Set aside to cool.
3) Make up a bowl of 190g various dried fruits and 25g of Healthy Supplies freeze dried fruits, and when the oats are cool, add the fruit, mix well and store in a air tight container.
The beauty of this recipe is that it is not writ in stone - some people use wheat germ instead of linseed; I use coconut oil and walnut oil; nuts are interchangeable, as is the fruit! Of course, what really makes it delicious is the intense taste of the freeze dried fruit. We eat our grannyola with homemade kefir, but it is also delicious with plain yoghurt.
---
Related Categories

---

Freeze-Dried Strawberry Recipes
Freeze-Dried Raspberry Recipes
Your Recipes
Customer Reviews on Trustpilot
---