| | |
| --- | --- |
| Eight Completely Different Ways To Use Rice | |
Rice is a really versatile cooking ingredient and can used in both sweet and savoury dishes. We stock a wide selection of rices from brown basmati rice to arborio rice, sushi rice to wild rice! We also stock lots of rice products such as rice flour, rice pancakes, rice flakes and puffed rice! Here are eight of our favourite ways to use rice!
---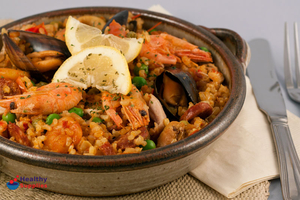 Our traditional paella is packed full of succulent seafood and authentic Spanish ingredients. This quick one-pan dish is relatively quick to make giving you time to enjoy a siesta!
---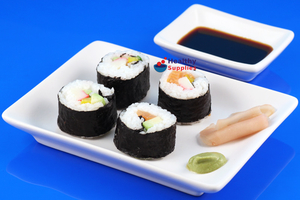 The Maki Sushi Roll is the most commonly recognised form of sushi. Maki rolls are simply a choice of filling, surrounded by sushi rice, wrapped in a thin sheet of Nori seaweed.
---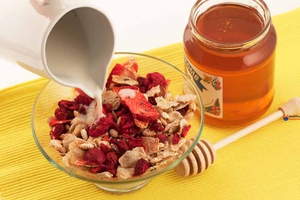 This is a simple muesli made from Chia Seeds, our Freeze-Dried Berry Blend and gluten-free puffed brown rice.
---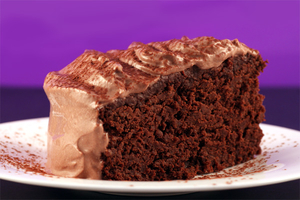 This chocolate-lovers' dessert made from rice flour will make enough for at least 8 people. Each slice is richly satisfying and is a cross between gateaux and a pud. It keeps well in the fridge for for a good week (if you can resist it for that long) so should provide you with second helpings!
---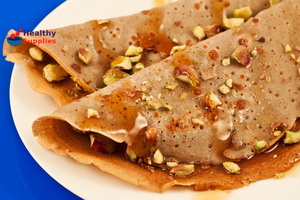 Despite the name, buckwheat bears no relation to wheat and is naturally gluten free. Combining buckwheat flour with the sweet, nutty flavour of brown rice flour, makes an excellent base for a gluten free pancake recipe.
---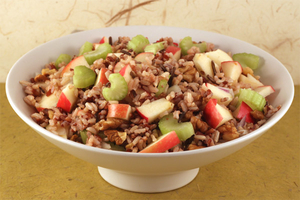 This salad has a nutty, fresh flavour making it ideal for Summer lunches and BBQ's. There's plenty to munch on and for this reason you should find this recipe both filling and satisfying. We didn't add any oil or vinegar to this dish as we felt the apples and celery provided enough juiciness, but feel free to drizzle your favourite dressing before serving.
---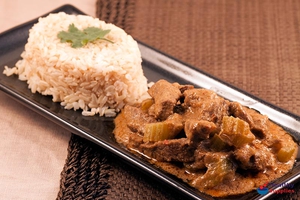 This is a simple, slow-cook curry you can pop in the oven and leave for a couple of hours to build up the flavours and tenderise the meat (if you choose to use meat of course!). We partnered the curry with some Jasmine Brown Rice to make it extra tasty and good for you.
---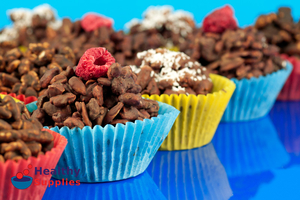 Tasty crispy cupcakes made from organic wholegrain cereal puffs, chocolate and additional seeds/fruit - This is a great way of adding tasty fruit, omega-rich seeds, protein packed nuts and wholegrain fibre into children's diets. Plus these are fun and easy treat to make!
---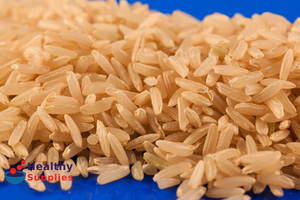 Buy rice and rice-based products including sushi rice, risotto rice, many types of brown rice, exotic black rice, puffed rice, flaked rice, rice pancakes, ground rice, rice flour, wild rice and plenty of others, as well as plain white rice.
---
Customer Reviews on Trustpilot
---