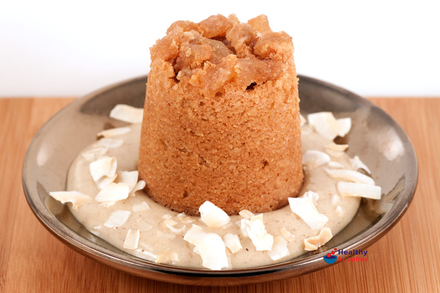 A light, individual sponge dessert with coconut custard.
Coconut & Ginger Mini Sponge Puddings - Recipe
---
How to Make the Puddings
1)
Heat the oven to 180°c/160°c Fan/ Gas Mark 4.
2)
Grease the inside of each of the dariole moulds and then dust with a little flour, tapping out any excess.
3)
Place each mould into a brownie tin or deepish baking tin that can take a few centimetres/an inch or so of water safely without spilling over.
4)
Sift the flour into a bowl and then stir in the coconut powder.
5)
Beat the butter and sugar with a spoon, hand mixer or in your food processor.
6)
Add the eggs and the dry ingredients. Mix thoroughly.
7)
The finished mixture should have a dropping consistency. Gluten-free flour tends to need extra moisture so add some milk/rice milk to achieve this consistency.
8)
Sprinkle some of the chopped ginger pieces into the base of each mould.
9)
Then spoon the cake mix into each mould, leaving a little space at the top for the cakes to rise. (Or spoon to the top and cut the excess cake off once baked and use as a base for a
trifle or sundae.
)
10)
Pour boiling water halfway up the baking tray and place in the centre of the oven for around 20 minutes or until the tops are springy.
11)
Make the custard around 10 minutes before you are due to remove the cakes from the oven.
12)
Place the coconut milk and vanilla paste into a saucepan and gently bring to the boil over a medium-low heat.
13) Meanwhile, whisk the egg yolks and sugar together in a bowl, then add the flour and mix into a smooth paste.
14)
Remove the coconut mixture from the heat and pour over the egg and sugar mix, whisking continuously until well combined.
15)
Pour this mixture into a clean pan, bring to the boil and keep stirring until the custard thickens. The mixture should be able to coat the back of a wooden spoon.
16)
Remove the cakes from the oven and allow them to cool slightly. Set out individual plates (or bowls if you prefer) and pour some custard into the centre of each.
17)
Gently tap the base of each pudding to remove it from its mould and place into the centre of the custard. Scrape out any pieces of ginger that may be stuck to the base of the moulds and place back on top of the sponges. Garnish with a sprinkle of toasted coconut chips and serve.
---
Related Categories

---

Buy Desiccated Coconut Online | Healthy Supplies
Hot Puddings
Buy Coconut Milk Powder Online | Healthy Supplies
Sugar Free Bakes
Ten Ways To Use Vanilla Powder
Customer Reviews on Trustpilot
---