Chocolate Orange Battenburg Cake - Recipe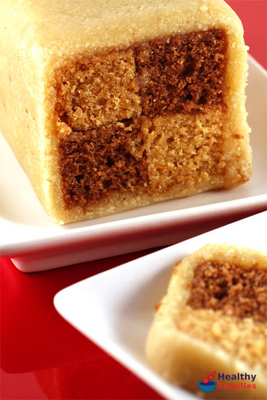 A new take on this popular cake
This Battenburg contains no artificial flavours or colourings, so ideal for the whole family. We've swapped pure white flour for a healthier light brown flour. This goes some way to explaining the darker colour of the orange flavoured blocks of the cake. Another reason for the richer colour is the use of some coconut palm sugar, which has a lovely, natural golden colour. These ingredients also add to the depth of flavour.
For the marzipan we chose an egg-white free recipe and substituted cane sugar for Xylitol. If you are lucky enough to own a flour mill then we recommend grinding the Xylitol into a fine powder. We have a hand operated mill which proved very useful for this recipe as well as being good exercise!
Ingredients:
- 225g
self-raising flour
- 1 tsp
Baking Powder
- 80g
Coconut Palm Sugar
- 145g
Xylitol
- 150g non-hydrogenated margarine or butter, softened
- 75g low-fat natural Yoghurt
- 4 medium eggs, lightly beaten - 2 tsp finely grated orange rind - ¼tsp - ½tsp of Orange Extract or 1 Tbsp of orange juice.
- 1 Tbsp of
Raw Cacao Powder
or
Cocoa Powder
- 2 Tbsp of melted
70% Cocoa Chocolate
- ¼tsp - ½tsp of
Vanilla Extract
- 4 Tbsp of
Apricot Jam
, warmed
- 450-500g marzipan (see below for recipe)
For the Marzipan
- 400g ground almonds
- 200g Xylitol, preferably ground into a powder
- 2 Tbsp lemon juice
- 4 Tbsp Agave Nectar/runny honey or rice syrup.
- 2 tsp Almond Extract
- 2 Tbsp cold water

---
How to Make the Two Cake Bases
1)
Pre-heat oven to 180°C/Fan 160°C/Gas Mark 4.
2) Sift the flour and baking powder into a large mixing bowl. Have another bowl of similar size handy.
3) Add the coconut sugar, xylitol, margarine/butter, yoghurt and eggs. Beat until the mixture is smooth and creamy.
4) Divide equally into 2 bowls. Fold the orange rind and orange juice/extract into one bowl.
5) In the second bowl add the Vanilla Extract, Cacao/Cocoa Powder and melted chocolate. Stir well to mix.
6) Spoon each mixture into greased and base-lined square tins (approx. 18cm/7inch) and level the surface. We didn't have the right tins, so had to adapt and use two medium-sized bread tins. This will cause there to be some cake wasteage, however crumbs and scraps can always be put to good use in trifles or left to go stale, can be made into truffles!
7) Bake in the middle of the oven for 30-45 minutes or until a skewer comes out dry with no mix sticking to it. Also, the top of the cake should spring back slightly when touched. Tip: We found that the Orange mix baked slightly quicker as we hadn't quite measured the mixes out evenly. So, bear this in mind if the same happens to you! As long as you have enough cake base to cut 4 evenly sized blocks (or cuboids) it won't matter.
8) Cool for 5 minutes in the tin and then turn out onto a cooling rack to cool completely.
---
How to Make the Marzipan
1)
In a large bowl mix together the ground almonds and powdered Xylitol so they are evenly distributed.
2) Add the Almond Extract, lemon juice, cold water and the agave nectar and bring together to form a dough. This mix may well be sticker than you are used to with shop bought marzipan.
3) Use a little ground almonds to help you form a rough sausage shape. Place back in the bowl and put to one side until you are ready to assemble the cake.
---
How to Assemble the Battenburg
1)
Trim the edges from each cake and cut each cake into four even-sized strips.
2) Using the warm Apricot Jam, glue an orange block together with a chocolate block and repeat with the remaining 2 blocks.
3) Cover the top of the first two blocks with more jam and place the second pair the opposite way to creat a chequer board effect.
4) You will need a roll of greaseproof paper/baking parchment to help you roll the marzipan around the cake. Place the 'sausage' of marzipan in the centre of a generous square of the greaseproof paper.
5) Have some ground almonds to hand to help prevent the mix from sticking to the rolling pin. Roll the dough as thinly as you can into a rough oblong, making sure you roll enough to wrap around the whole cake with a bit to spare.
6) Use the remainder of the Apricot Jam to spread over the rolled out marzipan. Place the cake at one end of the oblong and use the same end of the greaseproof to slowly roll the cake along the marzipan. If you keep the paper fairly tight as you roll you will avoid air bubbles and the marzipan will fit neatly.
7) Trim a sliver from both ends of the cake with a bread knife, or alternatively just trim off the excess marzipan. Store in an airtight container until you are ready to serve.
---
Related Categories

---

Large Cake Recipes
Cake & Biscuit Recipes
How To Use Nut Powders
Customer Reviews on Trustpilot
---