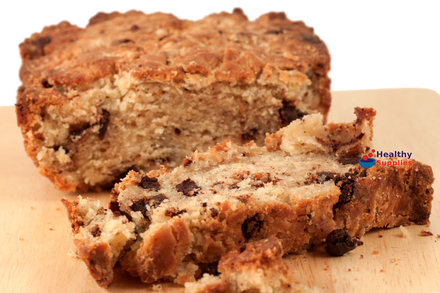 A Wheat-free Breakfast Bread
Chocolate Chip Loaf - Recipe
Semi-sweet, yeasty bread with Chocolate bits. Gluten-Free.
Devised and baked by Caroline Fernandes.
This bread is quick to make and should rise well, as long as you warm the milk first. The finished loast is best eaten when warm and does not require any further butter or margarine.
The loaf will make enough for 8-10 1½cm slices.
It would be complemented by a drizzle of Hazelnut Butter or Maple Syrup and is perfect with your morning cuppa.
Ingredients:
---
Pre-heat the oven to 200°c/Fan 180°c/Gas Mark 6. Grease and line a large loaf tin.
Warm the milk in a pan with the water. Then add the egg and lightly beat.
Put each of the flours into a food processor or large mixing bowl. Add the salt, Xanthan Gum, Coconut Sugar and Yeast and mix.
Add the butter and pulse several times so that the mixture is roughly mixed and not turned into breadcrumbs. If making by hand use a knife to cut the butter through the flour, using your hands briefly, so as not to create breadcrumbs.
Break the chocolate into rough pieces and place into a plastic bag. Loosely hold the bag together and use a rolling pin to crush the chocolate into smaller pieces to make-your-own chocolate chips. Alternatively use a pestle and mortar if you have one. Sprinkle into the dough mix and distribute evenly using the pulse button or folding in by hand.
Tip the dough mix from the food processor into a large mixing bowl. Make a well in the centre and add the milk-egg mix.
Bring the dough roughly together and spoon into the loaf tin, squashing the mixture into place. Use a piece of clingfilm over the top to flatten the dough a little more.
Recover the dough with a fresh piece of clingfilm and place in a warm place to prove for around an hour or until the dough has risen.
Remove the clingfilm and place in the oven for 25-30 minutes or until the top in a dark golden brown.
This bread is best enjoyed straight from the oven. However slices can be stored or frozen once cooled and reheated when needed.
---
Related Categories

---

Breakfast Muffins & Bakes
Bread & Roll Recipes
Eight Fun Recipes For Children!
Customer Reviews on Trustpilot
---