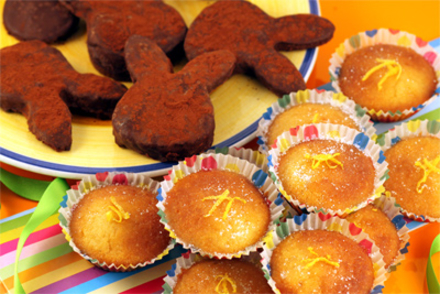 Above: Bunnies alongside our
Lemon Drizzle Cupcakes
.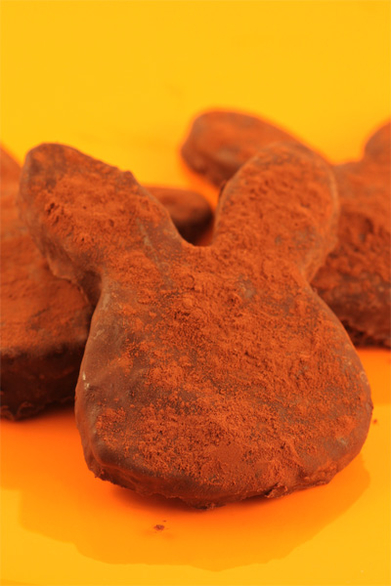 Chocolate cookies covered in dark chocolate.
Chocolate Bunny Biscuits (Gluten Free) - Recipe
Chocolate covered cakey-cookies
These gluten-free chocolate biscuits were made by the Healthy Supplies team following Tiana's recipe for Chocolate Cookies. They taste totally indulgent and this is helped by having a high percentage of cocoa! In our opinion, these are more like chocolate brownies rather than the classic crunchy American cookie. This is in no way a criticism of Tiana's recipe, as they are extremely moreish.
As in most recipes, we substituted sugar for Xylitol in order to keep the naughty sugars out. We would say the most naughtiness came from the thick covering of Green & Blacks 70% Cocoa Chocolate we added after baking.
Full Ingredients:
40g
Sussex Wholefoods Coconut Flour
, sifted
40g
Coconut Oil
or butter
50g
Green & Blacks Cocoa Powder
, sifted
50g
Xylitol
3 eggs (we used medium)
Quarter teaspoon
Profusion Himalyan Pink Salt (fine)
Quarter teaspoon
Nielsen Massey Vanilla Extract
or
Ndali Vanilla Extract
For the Chocolate Couverture (covering):
100g Bar of Green & Blacks 70% Cocoa Dark Chocolate
A few tspns of Green & Blacks Cocoa Powder to dust.
Method:
In a saucepan or in a microwaveable dish, melt the Coconut Oil on the hob/in the microwave. We microwaved on 600watts for a few minutes stirred and then put back in for a few more minutes until the oil had completely liquefied.
Remove from heat or microwave. To speed up the cooling process transfer into a mixing bowl.
Mix in the cocoa powder.
In another mixing bowl combine the eggs, Xylitol, salt and Vanilla Extract.
Stir in cocoa mixture into the
Whisk in the coconut flour into a batter until there are no lumps.
Let the batter rest for 4 to 5 minutes to allow it to thicken slightly.
Drop the batter by the spoonfulon a greased cookie sheet.
We spread the mix out to a depth of around 1.5cm/ half an inch because we wanted to cut out our bunny shapes after baking. You could use small cake moulds to create the shape whilst baking.
Bake in a pre-heated oven at 175°C/350°F/Gas 4 for 10-15 minutes. Don't overcook or the mix will become bitter.
Left over crumbs from cutting out bunnies, chicks, etc. can be used with Morello Cherries and Custard to make a Black Forest style Trifle. Yum!
Makes around 16 roundish cookies, or 5-6 giant bunnies! We recommend mixing up twice the batter in order to cover the baking sheet completely (as we didn't quite have enough mix to do this) in order to get the maximum amount of cookies.
---
Related Categories

---

Cookies & Biscuits
Gluten-Free Recipes
Chocolate Making Kits
Cupcakes & Sweet Snacks
Cake & Biscuit Recipes
Customer Reviews on Trustpilot
---