Handmade chocolates are easier to make than you think.
Above:
Dark Chocolate
Below:
White Chocolates, dairy-free.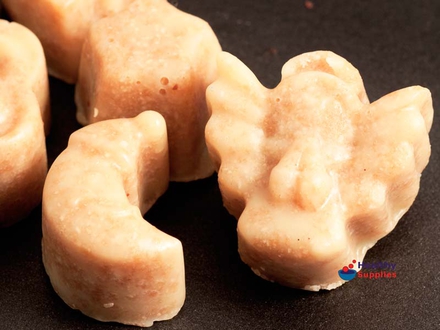 Chocolate Advent Calendar
Home-made chocolates with a festive theme!
Made without refined sugar: these chocolates are sweetened with coconut blossom nectar, which has a lower GI and therefore less of an unhealthy "sugar rush".
The carob chocolates are caffeine-free and made from untoasted carob which has a smoother flavour than the roasted version people are more familiar with.
White chocolates flavoured with lucuma & coconut.
Dark chocolates made using raw cacao powder.
Ingredients (Healthy Supplies)
You will also need a chocolate mould with many little shapes such as animal shapes, nativity shapes etc. You will, of course, need at least 25 little shapes to make your advent calendar!
Method
Follow the procedure below for each of the three types of chocolate: white chocolate, dark chocolate, and carob.
Find two pyrex bowls such that they will "nest" whilst leaving a gap in the lower bowl. Typically, the upper bowl will be slightly larger than the lower bowl. This will be used as a bain-marie.
Grate the cacao butter into the larger bowl. This will allow you to melt it on a low heat, thus keeping the "good oils" in the cacao intact.
Boil a kettle of water and pour into the lower (smaller) bowl. Put the larger bowl on top and stir the cacao butter with a wooden spoon until the cacao butter is melted. It will take around 3 or 4 minutes for the cacao butter to melt fully.
For each chocolate type, add the flavourings as described in the "Flavourings" section below.
Mix thoroughly.
Spoon the mixture into the chocolate mould, taking care to avoid bubbles. Tap the side of mould gently to release any trapped bubbles.
Place the mould in the freezer for at least an 1 hour.
Flavourings
Each chocolate type is made from 50g of the melted cacao butter, plus the natural flavourings below:
White chocolate
50g of coconut flour.
2 tablespoons of coconut blossom nectar.
2 teaspoons of lucuma powder.
1 teaspoon of almond extract.
Dark chocolate
3 tablespoons of raw cacao powder.
2 teaspoons of coconut nectar.
1 pinch of Himalayan salt.
Carob "Chocolates"
3 tablespoons of the unroasted carob powder.
2 tablespoons of coconut nectar.
1 capful of vanilla extract.
---
Final Thoughts
These chocolate recipes can, of course, be varied to suit tastes and dietary requirements. For example, xylitol or stevia can be used as a sweetener, and the white chocolate in particular can be flavoured with a wide range of ingredients including vanilla, ground almonds, ground cashews, freeze-dried fruit, etc. Cacao powder itself contains useful anti-oxidants and this un-roasted form helps preserve these.
If you keep the temperature of the bain-marie below 42 degrees, these chocolates will qualify as "raw" chocolates - keeping the nutrients as intact as possible.
These are the best ingredients you can use for what is essentially still a treat! Sugar is often the first ingredient in many of the so called dark chocolates on the market. Here you will have made top tasting chocolate with no unnecessary vegetable oils, emulsifiers (eg. Soya Lecithin) or of course cane sugar.
---
Related Categories

---

Advent Calendars
Christmas Biscuits And Chocolates
Chocolate & Confectionery
Customer Reviews on Trustpilot
---