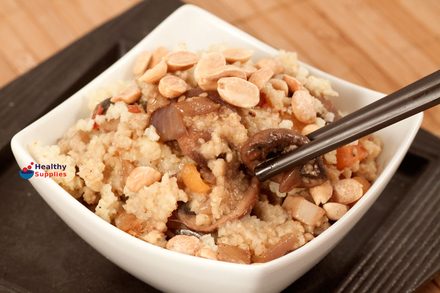 Millet is a popular grain around the world,
and a great alternative to rice in stir-fries.
Cooked by Brendan Fernandes, Owner, Healthy Supplies.
Chinese Stir Fry With Millet
A stir-fry using millet rather than rice.
Seasoned with sesame seeds, honey and toasted sesame seed oil.
This recipe is naturally free from gluten.
Other Ingredients
1 red onion.
Handful of baby carrots.
Mushrooms.
2 cloves of garlic.
A small piece of ginger.
Directions
To cook the millet:
Millet cooks a little like rice, though it does take a little longer.
Use one cupful per person.
Pour the dry millet into a saucepan and turn up the heat.
Toast until slightly browned and you can smell the aroma. (10 minutes).
Cover with boiling water so that the water is 2 inches above the level of the millet.
Place a lid over the saucepan.
Simmer until the water is no longer visible (10-15 minutes).
Turn the heat down to a minimum and leave to steam for 5-10 minutes.
To cook the stir-fry:
If you do not have a wok, use a frying pan. It's more or less the same!
Chop the baby carrots and boil in a saucepan (20 minutes).
Add a small knob of coconut oil to a heated wok.
Chop the onions, garlic and ginger and fry in the wok.
Add a little water and soy sauce.
Chop the mushrooms and add to the wok.
Add the sesame seeds, 5 spice and honey, with a little more water.
Add the carrots once boiled.
Season with the toasted sesame oil.
Add chilli flakes to taste.
Cook and reduce for 10 minutes.
---
Customer Reviews on Trustpilot
---