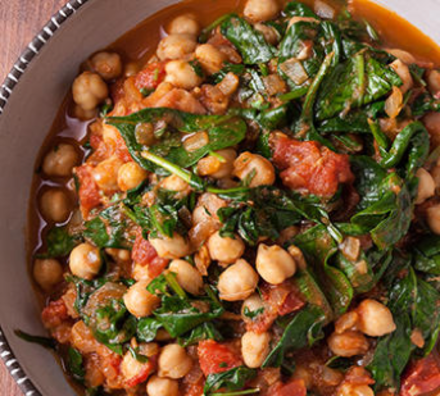 "Not only is this absolutely delicious and really easy to make but it's really healthy too. Best of all ….it can be made ahead (the day before) and reheated - that way the spices really have time to infuse. All round fab dish!" - Sue Haworth-Edwards
Chana Masala with Spinach & Chickpeas - Recipe
This hearty recipe was submitted by Sue Haworth-Edwards and can be easily customised to suit your own tastes!
1 cm piece of ginger - peeled and finely chopped
1 small red chilli - deseeded and finely chopped
1 clove of garlic - finely chopped
1 large onion - finely chopped
200ml water
220g spinach
Juice of half a lemon
---
Method
Heat a large non-stick pan or wok and dry-fry the cumin seeds for 1 min, stirring often, while they pop. Remove and set aside.
Using the same pan, heat the oil, add the onion, garlic, ginger and chilli, and sauté over a medium heat for about 3 mins.
Reduce the heat, add all the spices, stir well and cook for a further 2 mins.
Add the tomatoes, stirring, and use the side of a spoon to break them up into smaller bite-sized chunks.
Add the chickpeas and 200ml water. Bring to the boil, then simmer for 10 mins before stirring in the lemon juice and spinach.
Let the spinach wilt, then remove the pan from the heat.
---
Customer Reviews on Trustpilot
---