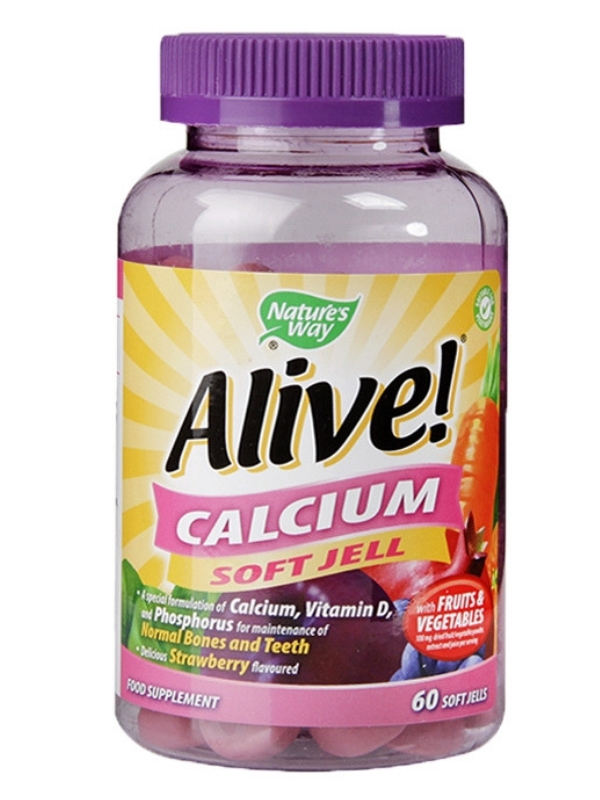 Alive! Calcium Soft Jell, 60 Soft Jells (Nature's Way)
A special formulation of Calcium, Vitamin D and Phosphorous.
Unique blend tha can help in maintaining normal bones and teeth.
Suitable for both adults and children from 3 years.
Delicious, natural strawberry fruit flavour.
Please note that these are gummies, not gel capsules!
Suitable for Vegetarians.
Does not contain gluten, soya, dairy, yeast, artificial flavours, colours or preservatives.
Tapioca syrup, Dried Cane Syrup, Tricalcium phosphate, pectin, Acid: Citric acid, Orchard Fruits and Garden Veggies. Blend powders: (Pomegranate [Seed], Plum, Apple, pear, Beet, Strawberry, Acai Extract, Grape Juice, Cucumber, Tomato, Cherry, Cranberry, Cabbage, Carrot, Cauliflour, Blueberry, Apricot, Orange, Papaya, Pineapple, Asparagus, broccoli, Brussels Sprout, Celery, (Celery), Green Bean, Spinach), Colour: Anthocyanins, Fractioned coconut oil (non-hydrogenated), glazing agent:Beeswax, Natural strawberry flavouring, Vitamin D3 (as cholecalciferol).
Customer Reviews on Trustpilot