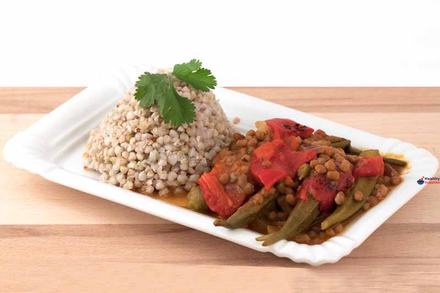 Buckwheat groats are used as an alternative to rice.
The curry is made with okra, peppers and green lentils.
Cooked by Brendan Fernandes, Owner, Healthy Supplies.
Buckwheat and Okra Bhuna - Recipe
Demonstrates the versatility of buckwheat.
Takes 20 minutes to cook.
Suitable for gluten-free, vegetarian and vegan diets.
Also used in this recipe
1 red onion.
Small piece of coriander (to garnish).
To cook the buckwheat
Pour 2 cupfuls of buckwheat groats into a large saucepan.
Boil a kettle of water and pour into the saucepan.
Simmer the buckwheat for 20 minutes.
To cook the bhuna curry
Do this while the buckwheat is simmering:
Chop the onion and fry in a saucepan with the coconut oil.
Add half a jar of the bhuna paste and stir.
Add the okra, green lentils and the peppers, with half a cupful of water.
Cover with a lid and simmer for 10 minutes.
---
Related Categories

---

Vegetarian Recipes
Seven Curry Recipes to Inspire You!
Meat-Free Mondays
Customer Reviews on Trustpilot
---