Click on images to enlarge:

Beetroot crisps. Not fried in oil:
they are dried until crispy!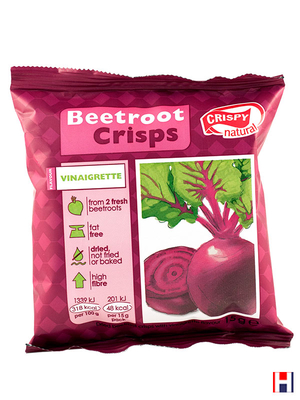 Lightly seasoned Beetroot Crisps
Healthy alternative to crisps.
Only 48 calories per bag.
Only natural flavours.
No added salt, oil or flavours.
No artificial preservatives or colours.
The perfect combination of crunch with a mild sweet vegetable taste. These beetroot crisps make a healthy snack for young and old alike as they have no added salt or flavours.
Each pack contains the equivalent of 2 fresh beetroot - approximately 220g of fresh beetroot.
Ingredients
Beetroot (99%), Wine Vinegar (0.5%), Lemon Juice Concentrate, Dried Black Pepper Extract, Dried Garlic Concentrate.
Made in the EU. Packed in a protective atmosphere.
Store in a cool, dry place.
Nutritional Information
| Typical Values | per 100g | per 15g pack |
| --- | --- | --- |
| Energy | 319kcal | 48kcal |
| Protein | 11.6g | 1.7g |
| Carbohydrates | 50.7g | 7.6g |
| _of which naturally occurring sugars | 44.9g | 6.7g |
| Fat | 1.5g | 0.2g |
| _of which naturally occurrng saturates | 1.0g | 0.2g |
| Fibre | 28g | 4.2g |
| Salt | 2.6g | 0.4g |