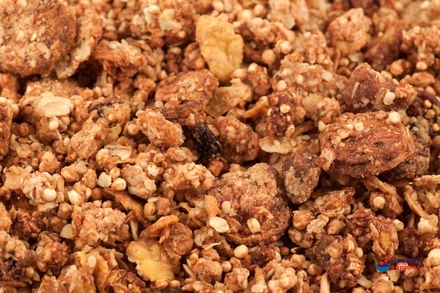 Gluten-free granola with quinoa, cornflakes,
gluten-free oats, peanut butter,
vanilla, hemp and fruits!
Quinoa Banana Sultana Granola - Recipe
This gluten-free Granola uses smooth peanut butter and two types of dried bananas to create a delicious breakfast cereal. There's protein to be found in the nuts and quinoa; complex carbohydrate in the oats and omega oils contained in the shelled hemp seeds.
Enjoy with milk or milk substitute in the usual way. Use the granola in a breakfast smoothie or just sprinkle a few dessert spoonfuls on top of yoghurt or fromage frais.
This recipe makes around 850-900g of granola.
Devised and made by Caroline Fernandes.
---
Method
Pre-heat the oven to 170°c/Fan 160°c/Gas Mark 3.
Place a sheet of baking parchment onto a flat baking tray.
Put the Peanut Butter and honey in a pan or microwaveable bowl. Warm gently until the mixture starts to combine and become more runny. Add the Vanilla Extract and stir well.
Put all the dry ingredients in a large bowl and mix with your hands.
Add the honey-peanut butter mixture and stir with a wooden spoon. Keep mixing so that the ingredients are well coated.
Add the oil and continue to mix well. You will find that the mixture already starts to form clumps. Break these up roughly with the side of your spoon.
By hand, crumble the mixture across the baking tray. Place towards the top of the oven for 8 minutes or until clusters start to form and become golden brown.
Then using a wooden spoon or heat proof spatula, turn the mixture over. Chop any large pieces that have started to form.
Place back in the oven and bake for a further 5 minutes or until golden brown.
Remove from the oven and allow to cool before transferring into an airtight container ready for breakfast!
---
Related Categories

---

Muesli & Granola Recipes
Quinoa Breakfast Recipes
11 Ways To Use Quinoa
Customer Reviews on Trustpilot
---