TEN WAYS TO USE AMARANTH
Amaranth is a plant that yields lots of little fruits. The seeds of the amaranth are known as amaranth grain. These tiny grains are an excellent source of protein, as well as dietary fibre and minerals like magnesium, iron, calcium and phosphorus!
It has a subtle flavour, and is neither sweet or savoury, making it perfect for all kinds of cooking & baking. It is naturally gluten free, making it a great ingredient for those with gluten-intolerances. We sell this power-grain in lots of different forms: flour, flakes, whole grain and puffs!
Here are some of our favourite ways to use amaranth!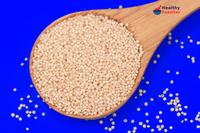 Amaranth Pudding with Almond and Raisin
A porridge-like sweet pudding that is naturally sweetened with raisins and apple juice. There is no milk in this porridge, so it is ideal for vegans. It is made using whole amaranth seeds on the hob. Cinnamon and vanilla spice provide the illusion of sweetness on the palate, so you can keep the sugar content low.