TEN HEALTHY SNACK IDEAS
Small changes to your lifestyle can have a big positive effect on your overall health. Indulging in naughty snacks is often where people slip up when they are trying to embark on a healthier lifestyle. Try and remember that most vending machine snacks will not fill you up and will do nothing nutritionally for your body.
Our top ten healthy snack ideas show how you can snack sensibly and maintain your healthy routine! Many of these recipes can be whipped up on a Sunday and enjoyed throughout the week! So banish those trips to the vending machine and check out some of our favourite snack ideas!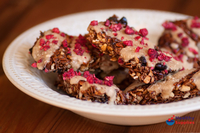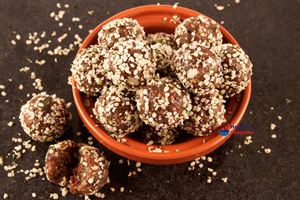 These sweet and tasty energy balls are naturally sweetened with dried fruit. They are packed with protein-rich foods like almonds which will help keep you going through the day!
These gently roasted cashews are lightly spiced and satisfyingly crunchy.
Gluten-free, no-cook flapjacks made without cane sugar. A generous snack, which is highly portable and satisfying.
No-cook, no cane sugar, rich chocolate bites with sesame seeds, pecans and almonds. These provide an immediate energy boost and protein to sustain you.
Spelt & Raspberry Nutty Flapjacks with White Chocolate
Toffee-like, crunchy spelt bars made with red berries, coconut sugar, cashews and homemade white chocolate. These tasty treats are DAIRY FREE and low GI in comparison to many honey-rich, sugar-full flapjacks/oat bars available in supermarkets.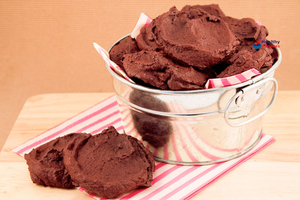 Chocolate & Raisin Brownie Biscuits
These chocolatey brownie biscuits are free from dairy and cane sugar! We used coconut oil instead of butter and sweetened the biscuits with coconut sugar!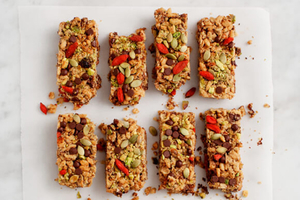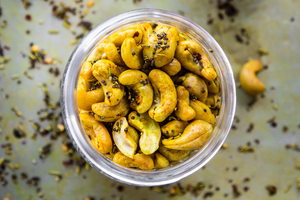 Bean and Pepper Tortilla Bites
These savoury potato, bean and egg bites can easily be packed in a cool-bag to have for elevenses or a light lunch on-the-go.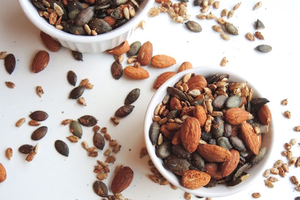 Savoury Trail Mix (via joyoushealth.com)
A delicious mix of nuts and seeds seasoned with onion, garlic and cayenne pepper. Super-quick to make. Put all ingredients in a lidded plastic tub, shake and go!