POWER BOWL INSPIRATION
Whether you are looking for a nourishing breakfast bowl or a warming lunch dish, power bowls may hold the answer. These photogenic dishes are a great way to enjoy both sweet and savoury dishes.
Pile your bowl with your favourite whole grains, fresh veggies or fruit and away you go! Everything tastes so much better out of a bowl!
Here are some of our favourite Power Bowl recipes!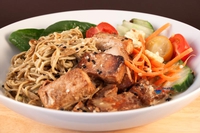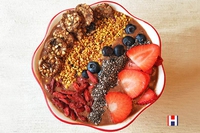 This delicious vegetarian-friendly buddha bowl is packed with fresh flavours. Bake a batch of the seasoned chickpeas and enjoy throughout the week as a snack.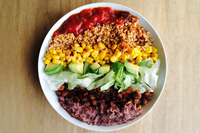 We love this veggie burrito bowl. It is suitable for vegans and is dairy-free! We used caulirice instead of traditional rice for a lighter meal. You can buy one of our pre-made caulirice packs from here.
Our sushi bowl is a great way to enjoy the flavours of your favourite sushi without the hassle of having to actually make the sushi. We used salmon, but you can use braised tofu or seitan if you prefer.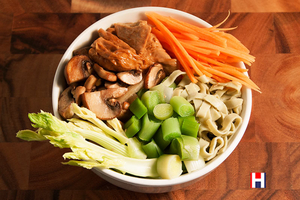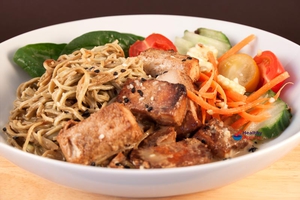 Baked Tofu with Asian Layered Salad
Marinated and baked tofu is the basis of this amazing layered salad. Packed with fresh vegetables, tangy dressing – this dish makes a wonderful, portable lunch!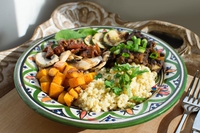 Roasted Veg and Bean Millet Salad
This millet bowl is packed with good stuff! We paired our millet with roasted butternut squash, Mexican style black turtle beans, courgette, mushrooms and spinach! Enjoy this dish for lunch or dinner. Who says meat free dishes are boring?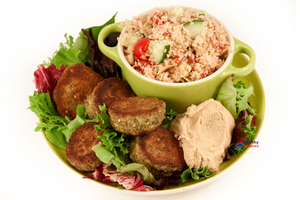 Falafel with Zahtar, Houmous and Cous Cous Salad
Homemade falafels are a great addition to salads and power bowls. This recipe draws inspiration from the middle east. Whilst you can use pre-made hummus, we really recommend making your own. It is super easy and packed with flavour.
Power bowls do not have to be confined to the realms of savoury dishes. This millet and berry porridge bowl is a great example of how to make a sweet power bowl! Simply top porridge with fresh fruit, nuts and seeds.
Smoothies can also be enjoyed in power bowl form! This superfood smoothie bowl has a banana cacao base and is topped with a plethora of super-foods.