HOW TO USE HAZELNUTS
The distinctive flavour and texture of hazelnuts make them perfect for desserts. They pair well with chocolate and coffee flavours, but actually hazelnuts also work very well in savoury dishes too.
Hazelnuts come whole with or without their skins on and can come ready-roasted. Hazelnut 'meal' or flour is perfect for baking things such as muffins and adding to no-cook brownies. Roasted hazelnuts are ideal for puddings and cakes, with their rich depth of flavour.
For savoury dishes, unroasted hazelnuts whole or roughly crushed hazelnuts work very well in salads and pasta. Nibbed or chopped hazelnuts make a very good addition to stuffing, crusts or coatings.
Here are some recipes to get you started!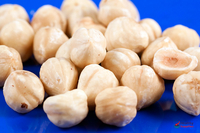 Hazelnut & Maple Syrup Pancakes
These gluten-free and dairy-free thick pancakes are drizzled with hazelnut butter and crushed, roasted hazelnuts. A super dessert and the perfect weekend breakfast recipe.
Pesto usually features pine nuts, but here it is hazelnuts which have the starring role in this dairy-free version. The natural fat content of the hazelnut makes a great tasting paste, which has a slightly more subtle flavour than the pine nut.
A supremely simple recipe using rice milk to make this frozen dessert dairy-free. Can be made without and ice-cream maker. Uses roasted hazelnuts and hazelnut butter, topped off with a home made chocolate sauce.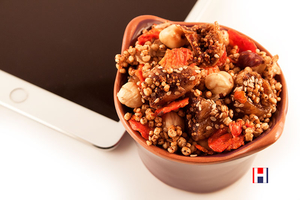 A granola style healthy snack with delicious roasted hazelnuts.