HOW TO USE FREEZE DRIED FRUIT
Freeze Dried fruit is a great way to incorporate more fruit into your diet. It is dried in a unique way that freezes and removes the water from the fruit. The freeze-drying process also extends the shelf life of normally highly perishable foods, such as raspberries and strawberries.
We have a wide range of freeze dried fruit and herbs that can be used in a similar way to their fresh versions as well as new and exciting uses. For example, freeze dried fruit powders are particularly useful in recipes where the fresh version would have too much water. This the lack of water provides a concentrated flavour and natural food colouring.
These wonderfully versatile ingredients can be used in a variety of dishes from confectionery to cakes, to bread and drinks!
Here are 10 recipes showing you different ways to use freeze dried fruit…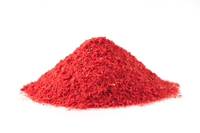 1) Spelt & Raspberry Flapjacks
Toffee-like crunchy spelt bars made with goji berries, coconut sugar and cashews. The bars are covered in homemade white chocolate and sprinkled with crushed freeze-dried-raspberries. These are tasty dairy-free and lower GI flapjacks, in comparison to many available in supermarkets.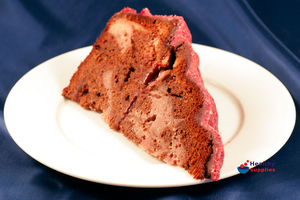 2) Chocolate & Raspberry Zebra Cake
This celebration cake utilises the power of freeze dried raspberry powder to add both natural colour and flavour. Freeze Dried fruit powder will only provide vibrant colour if used un-cooked, in recipes where you don't bake. If you do bake with these powders, you will achieve a paler colour, but the flavour will not be diminished.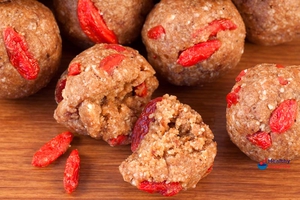 4) Gingerbread Goji Snack Balls
These gingerbread flavour balls get their biscuit-like flavour in part, from the addition of freeze dried banana powder. This secret ingredient also adds to the natural sweetness of the recipe. There is no cane sugar here, just fruit and a little coconut syrup to hold everything together. They are fun to make too!
5) Gluten Free Purple Berry Compote
Freeze Dried fruit provides a convenient, last minute ingredient for a variety of desserts and sweet dishes. These simple puddings are made using our Freeze Dried Purple Berry Blend and buttery short crust pastry. Try swapping the pastry top for a gluten-free crumble topping or using the fruit compote as the base for a steamed pudding.
These moist mini-breads are both gluten-free and yeast-free. Baked inside are freeze dried raspberries, which lend a tart fruitiness to each farl. Whole freeze dried fruit in this recipes allows you to enjoy this berry without mess and extends the shelf-life of these grab-and-go breakfast bites.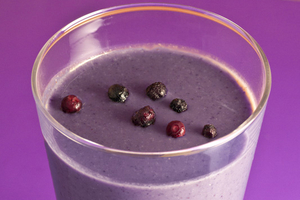 A beautiful deep lilac smoothie made with freeze dried blueberry powder and almond milk. The ideal ingredient for when you don't have fresh fruit in the cupboard, or they are out-of-season. With freeze dried fruit you can still enjoy the benefits of your favourite berries, any time of the year!
9) Raw Dark Chocolate with Raspberries
Freeze Dried fruits are perfect for mixing into raw and homemade chocolates. They keep their vibrant colour and add taste and texture. Freeze Dried raspberries, strawberries and cherries are probably the easiest in terms of flavour suitability to partner with various types of chocolate – just start experimenting!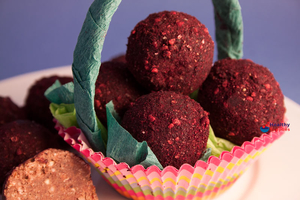 Luxury homemade truffles made with carob rather than cocoa. The recipe uses just dates to sweeten and a host of other healthy ingredients, including maca powder and sunflower seeds. Each hand rolled truffle is then thickly dusted in freeze dried blackberry powder to lend a taste contrast to the sweet truffle itself and an intriguing velvety look to the outside.