TWELVE HOME-MADE CHRISTMAS GIFTS
Home-made gifts are a great way to show someone you care! Whether it is a box of home-made chocolates or home-made bath fizzers, we have a gift for everyone! We recommend making a home-made gift hamper full of lovely foodie treats – here are our favourite home-made presents!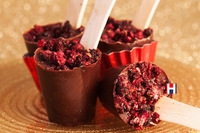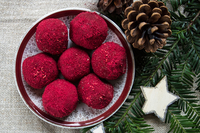 Lovely chocolatey, nutty truffles with a hazelnut in the middle. Absolutely scrumptious!
Creamy, sweet and tangy – these are wonderful at Christmas or all year round!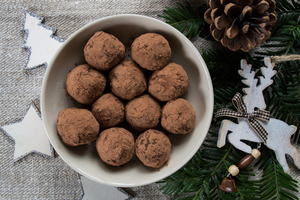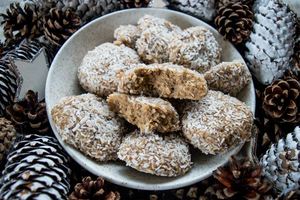 Delicious gluten-free vegan coconut Xmas treats – the perfect DIY gift!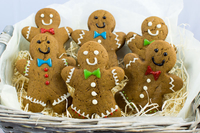 Gluten-free gingerbread men. Sweetened only with molasses and coconut sugar.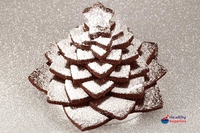 Quickly mix up a batch of chocolate biccies with this spiced shortbread recipe. We used a whole tin of Green & Blacks' Cocoa Powder for a rich chocolate flavour! If you have the right cookie cutters you can easily make this chocolate shortbread into a Christmas Tree. This dough rolls out nicely and can be cut into any shapes you fancy!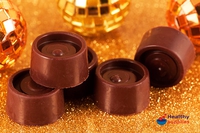 'Mistletoe Kisses' - Raw Dark Chocolates
These are luxury dark chocolates, naturally flavoured with Organic Rose Oil. They are quick to make and will certainly indulge someone who is partial to the flavour of pink Turkish Delight!
These iced chocolate cookies are sweetened with fruit purée for a healthier Christmas treat. Use a flavoured raw chocolate bar to mix up the flavours – orange chocolate makes a delicious filling!
These little bars are made with melted Carob Drops and are sweetened just with Coconut Sugar! You would hardly notice that they are not conventional Cocoa/Cacao based chocolate as the flavour is so similar – dark & rich, without the usual carob aftertaste. This recipe makes around 15 chocolates!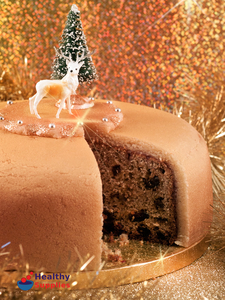 A lighter golden version of the tradition British Christmas Cake recipe. This fruity festive favourite comes packed with raisins, cranberries, cinnamon, ginger, nutmeg and allspice. Best of all it is entirely gluten free!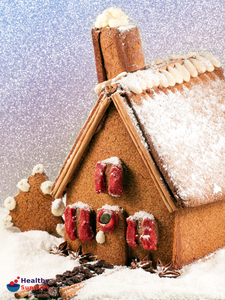 Gingerbread is one of the classic tastes of Christmas. This is a great gluten-free recipe to make with children and it makes a wonderful centrepiece! We decorated our house with spices, nuts and butter cream. You can adapt decorations to your own preferences and use sweeties, freeze dried fruit, icing and seeds!