10 GRAIN-FREE RECIPES THAT SEEM SURPRISINGLY NORMAL!
Although grains are a staple part of our diet, it is perfectly possible to cook without them and still make regular, tasty food. Here is some inspiration – including these almond and date brownies, flaxseed bread, lemon and poppy seed pancakes and almond and tapioca pizza!
Brownies made from nuts and dates – including almonds, walnuts, and these incredible Sukkari Dates, which are a cut above the rest! Flavoured with raw cacao powder, maca, vanilla and coffee, and sweetened with a little coconut sugar.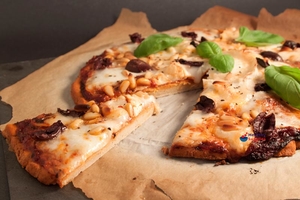 Made with almond flour and tapioca. The base holds together really well (thanks to the tapioca) and the pizza is crispy and convincing. It tastes exactly like a regular pizza! Ideal for those going gluten-free.
Four inspiring recipes including Savoury Kale Nuggets, Pizza Flax Raw Bread, Vegan Herby Cream Cheese and Avocado & Coriander Houmous.
These noodles are made from courgette and carrot! Cut into thin strips with a standard Julienne slicer, and stir-fried along with Thai spices, coconut milk, nut butter and black sesame seeds. Yum!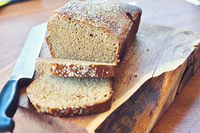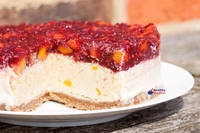 Peach Melba Cheesecake - Recipe
This cheesecake is not made using cheese! Instead, cashew nuts are soaked and pureed. It is really delicious. The base is made from nuts, seeds and dates.
Paleo Brownie Balls Snack - Recipe
They are chocolatey, and made from nuts, seeds, dates and nut butter. No cooking required: 5 minutes to make! (Although you need to refrigerate them for a few hours, for best results).