FIVE WAYS TO USE FIGS
Dried figs are a great source of both essential dietary fibre. Their soluble fibre promotes healthy blood sugar and cholesterol levels, whilst their insoluble fibre helps supports a healthy digestive system! Figs make a great snack, but they are a really versatile cooking ingredient and they can be used in both savoury and sweet dishes!
Here are our top five uses for figs!
Breakfast Bars (via foolproofliving.com)
Figs really lend themselves to energy bars. Their squodginess helps bind the seeds and nuts together. They are a great source of energy as well due to their high levels of soluble fibre!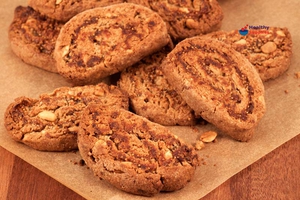 These tasty peanut and fig biscuits are a great source of both dietary fibre and protein! Coconut butter was used to reduce the saturated fat making these healthier and in our opinion – tastier!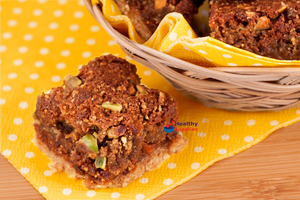 Pistachio, Fig & Honey Tray Bake
Our Pistachio, Fig and Honey Tray Bake is filled with the sweet flavours of the Mediterranean! This tray bake makes around 24 5cm(2 inch) squares – perfect for popping into a lunch box! Check out the full recipe here…
This toasted muesli is a great start to your day: packed with slow releasing energy its keeps you going throughout the day. Serve with hot/cold milk or natural yoghurt. Check out the full recipe here…