10 MEAT-FREE ALTERNATIVES
Going meat-free has never been so easy! Check out our favourite meat-free alternatives that will tempt even the hardiest of carnivores!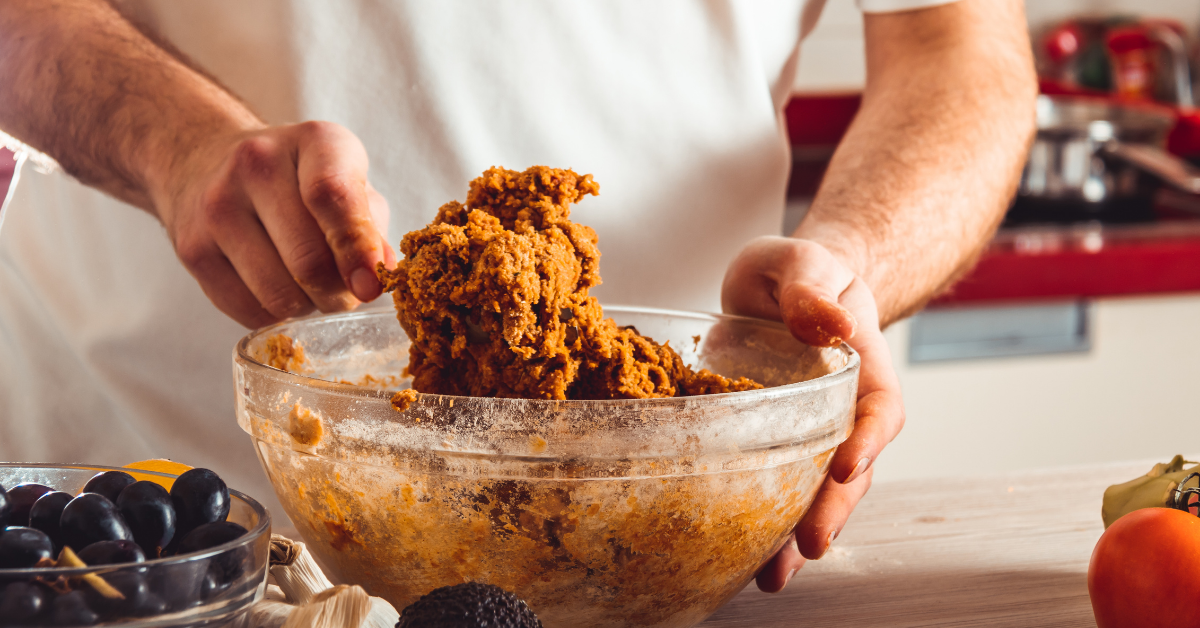 This is perhaps one of the most surprising meat alternatives in the universe. Seitan, or "wheat meat", is made from gluten, the protein found in wheat. Simply mixed with nut butter and seasonings before baking in the oven, this is an extremely convincing and satisfying meat alternative.
Seitan is probably top of our list of meat alternatives. The only drawback is that it is not suitable for coeliacs.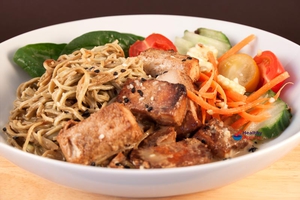 Baked Tofu with Asian Layered Salad
Tofu on its own is bland, but here we demonstrate a way of flavouring tofu by applying a thick marinade and baking until crispy. This results in satisfying, meaty chunks, eaten here with an Oriental salad.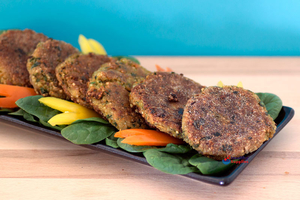 Quinoa is a versatile ingredient that everybody is talking about. The big deal with quinoa is that it's a grain with a nice balance of nutrients, with plenty of protein and less starch than rice or wheat. Here, we show how to make quinoa burgers, together with a little amaranth flour to help hold it all together.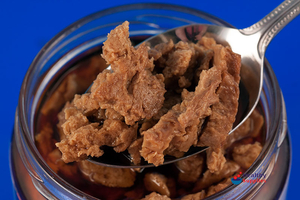 The seitan kebabs above are very easy to make, but if you really are in a hurry, add this ready-made seitan to curries, salads and casseroles for a quick meaty fix!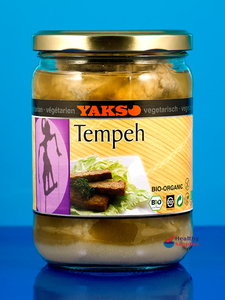 Tempeh is a soya-based "meat cake", made by fermenting soy beans. It originates from Indonesia, and is quite different from regular soya chunks. It's hard to make by yourself, but it's readily available in pre-made form.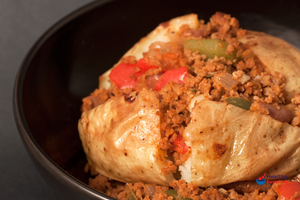 Jacket Potato with Vegetarian Chilli
Success with soya mince is largely about getting the seasoning right. On its own, soya mince is bland and tasteless – but add a little paprika, stock and other spices, and it's actually quite convincing and tasty. The same applies to soya chunks.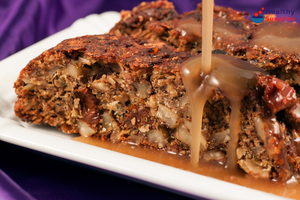 Nut roasts are a tradition that goes back many decades, and though you can certainly tell the difference between nut roast and meat, a nut roast is still satisfying, filling and high in protein. Here we have made a lovely cake-like roast, with plenty of herbs and spices.
Primal Spirit Vegan Jerky Strips
This vegan jerky is really quite amazing, and 100% convincing. They are based on wheat and soya, and it's hard if not impossible to tell that they are not real meat! They make for a quick and filling protein snack.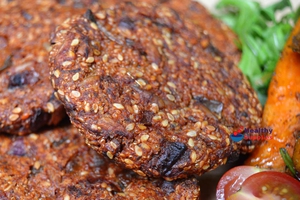 Amaranth is a high-protein, versatile grain that's similar in many respects to quinoa. These amaranth burgers are held together with potato flour, and also contain flax, sesame and sunflower seeds.