A superfine 100% Almond Flour - 80% less fat.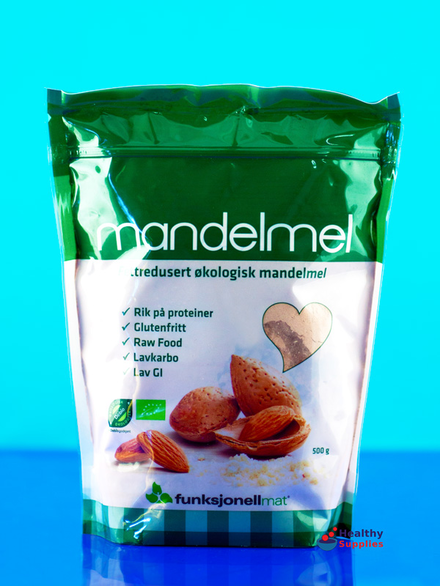 Almond Flour, Organic 400g (Sukrin)
This product has been discontinued by the manufacturer.
Finely-ground almond flour
Use as an alternative to wheat flour.
Gluten-free.
Organic.
Low in fat (cold-pressed before grinding) - 80% less fat than almonds!
Very high in protein (40%).
Ideal for cake-making or for making marzipan.
This almond flour is not simply ground almonds! It is a fat-reduced alternative to wheat flour, which can be used in cake recipes. It is gluten-free.
Because this flour lacks gluten, it is usually mixed with something that "binds" such as egg, xanthan gum or tapioca flour.
This almond flour is low-fat because it is pressed before grinding, squeezing out 80% of the fat. So it can be used as a low-fat alternative to ground almonds in, for example, marzipan.
Directions
To make cakes: Mix 80g of this almond flour with 20g of Fibrefine. Beat 4 eggs together with 100g of Sukrin or sugar until white. Fold the eggs into the flour and add around 4 tablespoons of water. Bake in a round non-stick cake tin at 180°C for around 20-25 minutes.
To make marzipan: Mix 90g of almond flour with 2 egg whites and around 60g of sugar or Sukrin. Knead into shapes.
Almond flour can be used to make bread, cookies or pancakes. Use as wheat flour, bulking out with Fibrefine or another flour, and using egg whites or tapioca flour as a binder.
Ingredients:
Almonds.
Finely-ground. Cold-pressed before grinding to reduce the fat content.
For more information on our ingredients policy please see here
Nutritional Information
| Typical Values | Per 100g |
| --- | --- |
| Energy | 331kcal |
| Protein | 40g |
| Fat | 11g |
| - of which saturates | 1g |
| Carbohydrates | 8g |
| - of which sugars | 5g |
| Fibre | 20g |
| Salt | 0g |
Organic.
This product has been discontinued by the manufacturer.
Customer Reviews on Trustpilot
Product Recommendations