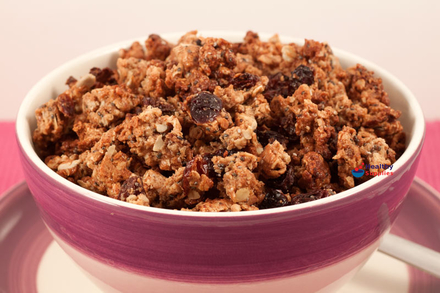 Gluten-Free Almond Butter Granola
Devised and baked by Caroline Fernandes.
Make your own luxury breakfast cereal with this quick granola recipe. We've made it using gluten-free muesli, but you can use any other plain (no added sugar) muesli.
The recipe makes around 420-450g of finished Granola. There is plenty of fibre and complex carbohydrates to give you prolonged energy, whether you enjoy a bowl for breakfast or an afternoon snack.
Enjoy with the milk of your choice. We recommend Almond or Coconut Milk Drink as these complement the nutty, roasted flavours.
---
Pre-heat the oven to 170°c/Fan 160°c/Gas Mark 3.
Line or oil a flat baking tray.
Put the honey and Almond Butter into a microwave proof bowl. Microwave on medium heat for around 30-40 seconds or until the Almond Butter starts to melt and slightly bubble.
Add the Cinnamon powder and Vanilla Extract to the almond butter and honey. Mix well.
Put the Muesli Mix into a large mixing bowl and add the almond butter and honey mixture. Coat the muesli by turning the mixture with a wooden spoon or spatula until the muesli is evenly coated and there is no powdery residue. Add nut oil such as Macadamia Nut Oil or Hazelnut Oil to add further moisture to the mix.
By hand, crumble the muesli across the baking tray. Place towards the top of the oven for 8 minutes or until the cluster start to brown
Then using a wooden spoon or heat proof spatula, turn the mixture over. Chop any large pieces that have started to form. Place back in the oven and bake for a further 5 minutes or until golden brown.
Remove from the oven and allow to cool before transferring into an airtight container ready for breakfast!
---
Customer Reviews on Trustpilot
---