Click on images to enlarge: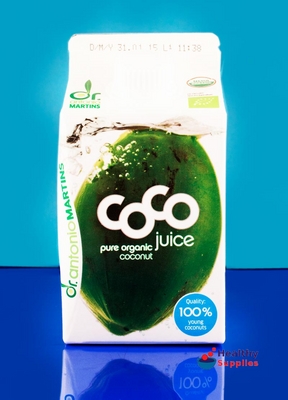 Above: Latest packaging. Below: Old packaging.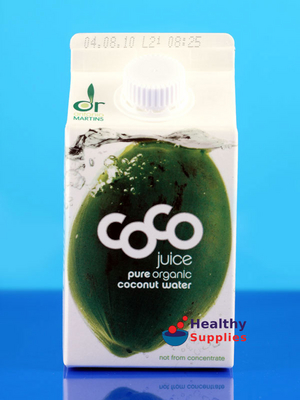 This product is currently unavailable.
This product is currently unavailable.
This coconut water has an incredibly unique taste, because it is taken from young green coconuts. It has a more complex, slightly less sweet taste than
Vita Coco
, with a more striking "coconutty" flavour. It is a favourite of many coconut water connoisseurs, though some prefer the Vita Coco. See our main
coconut water
page for more of a comparison.
Dr Antonio Martin's Coco Juice is simply pure coconut water, with no added ingredients. However, it is kept fresh because the manufacturers use a completely enclosed packaging process that ensures that the juice never comes into contact with light or air. This means that when you open the carton, the juice is as fresh as the day the coconut was picked. This sounds like blurb, but actually happens to be true - and you can taste the difference.
In addition, this juice is taken from green coconuts, which are fresh and young, rather than the mature coconuts that other coconut water is made from. It makes this particular product very distinctive.
It is the most expensive coconut water that we at Healthy Supplies have ever seen, but it is worth the money. Fortunately, we have an excellent discount structure which gives you plenty of money off if you buy lots of the stuff.
Ingredients
100% Coconut Juice. Organically grown from green coconuts on controlled organic farms.
This is actual juice and not from concentrate.
No preservatives of any kind. Refrigerate after opening.
Nutritional Information
| Values | per 100ml | per 500ml carton |
| --- | --- | --- |
| Energy | 24 calories | 120 calories |
| Protein | 0.7g | 3.5g |
| Carbohydrate | 4.8g | 24g |
| Fat | 0.2g | 1g |
| Magnesium | 25mg (8.3% RDA) | 125mg (41.7% RDA) |
| Calcium | 24mg (3.0% RDA) | 120mg (15% RDA) |
| Vitamin C | 2.4ng (4.0% RDA) | 12mg (20% RDA) |
| Vitamin B2 | 0.057mg (3.6% RDA) | 0.285mg (18.8% RDA) |
This product is currently unavailable.